Melbourne Victory 2 Perth Glory 0
By Roy Hay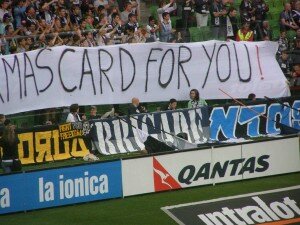 Melbourne Victory achieved its first win in three attempts against Perth Glory in a dour struggle at AAMI Park on Saturday night by two goals to nil, but the result came at a high cost to both teams.
Having just regained Archie Thompson and Matt Kemp from long term injuries, Victory coach Ernie Merrick had to replace both after Kemp suffered a groin strain early in the match and Thompson pulled a hamstring in spectacular fashion just after scoring what might be the goal of the season in stoppage time in the first half.
Perth lost young Josh Risdon, Antony Skorich and Jacob Burns and at least a couple of their other stars, Scott Neville and Adrian Pellegrino took knocks though both finished the game.
The Glory made the early running and Steve McGarry shaved the outside of the Victory post with a grounder after 19 minutes.
When Matt Kemp limped off in 34 minutes Victory brought on Rodrigo Vargas, but were nearly caught out when Neville fired a cross-shot in from the right and Pellegrino almost converted it into a goal.
Victory did create openings through Marvin Angulo and Carlos Hernandez but it was into the third minute of added time at the interval when Kevin Muscat took advantage of a good bit of refereeing by Matthew Breeze and surged forward.
He laid the ball off to Thompson on the left who exchanged passes with Robbie Kruse, who then back-heeled the ball to his fellow striker who finished the move.
In doing so Thompson injured his hamstring, though Victory assistance coach, Aaron Healey, thought that the damage might have been done in a tackle about a couple of minutes earlier.
That brilliant goal changed the complexion of the game, though Victory had to bring on Ricardinho at half time rather than in the last half-hour as planned.
The Brazilian showed some of his trademark skills on the ball and combined well with Marvin Angulo and Hernandez.
Perth replaced Risdon with Todd Howarth after only four minutes of the second half played and Victory might have doubled its lead when Adrian Leijer got on the end of a Hernandez free kick but put his header wide.
The second goal came quickly thereafter when Hernandez again put the ball into the danger area on the near post and Vargas powered a header goalwards where Todd Howarth got a despairing last touch as the ball entered the net.
Mile Sterjovski, who replaced Skorich should have done better than hit Michael Petkovic with his shot when clean through after 68 minutes.
Hernandez tried an outrageous lob from well inside his own half which just cleared the crossbar as Tando Velaphi scrambled backwards having been well off his line.
He also had a couple of closer range efforts, one from an excellent run by Surat Sukha, but neither troubled the keeper.
Victory held on comfortably enough in the end for its first back to back win of the season.
Aaron Healey substituting for Ernie Merrick who had lost his voice thought that this game was likely to set the pattern of Victory having to grind out results on the run in to the finals.
He was pleased with the clean sheet and the constructive play of Victory's whole squad, including Diogo Ferriera who made his first start in the A-League in place of the suspended Billy Celeski.
Ian Ferguson thought that the Glory's first half had been just about its best this season, but was disappointed at the loss of the goal just before half-time and the second from a set-piece.
He has not given up hope of making the finals but realises that with only five games left the odds are getting longer.
Match details
Melbourne Victory 2 (Archie THOMPSON 45' + 3', Rodrigo VARGAS 63') Perth Glory 0
Saturday, 18 December 2010
AAMI Park, Melbourne
Local kick-off: 7:00pm
Referee: Matthew Breeze
Assistant referees: Hakan Anaz James Nicolopoulos
Fourth official: Lucien Laverdure
Attendance: 12,164
Melbourne Victory: 1.Michael PETKOVIC, 2. Kevin MUSCAT, 5. Surat SUKHA, 7. Matthew KEMP (12.Rodrigo VARGAS 34'), 8.Grant BREBNER, 10. Archie THOMPSON (9. RICARDINHO, 46'), 11.Marvin ANGULO, 13. Diogo FERREIRA, 16.Carlos HERNANDEZ (15. Tom PONDELJAK 87'), 21. Robbie KRUSE, 23. Adrian LEIJER.
Unused substitute: 20. Sebastian MATTEI
Yellow card: Grant BREBNER 6'
Red cards: Nil
Perth Glory: 1. Tando VELAPHI, 2. Josh MITCHELL 3. Jamie COYNE, 5.Jamie HARNWELL, 7.Jacob BURNS (15.Howard FONDYKE 83'), 9.Robbie FOWLER, 12.Scott NEVILLE, 14.Steven McGARRY, 16. Adriano PELLEGRINO, 22.Anthony SKORICH (21.Mile STERJOVSKI 66'), 24. Josh RISDON (17. Todd HOWARTH 49').
Unused substitute: 20 Alex PEARSON
Yellow cards: Jacob BURNS 75'
Red cards: Nil