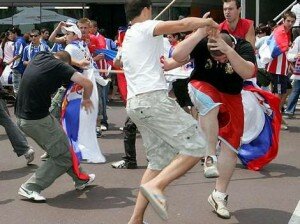 Geelong Advertiser, Wednesday 17 January 2007, p. 21.
On Monday there was trouble at the tennis with young men in Croatian and Serbian tops abusing and attacking each other. On Friday night, 190 people were ejected from the MCG, mainly men between 18 and 25. Three were arrested for being drunk, one for assault and one for possessing amphetamines. Then there was organised drag racing on the Princes Highway at Noble Park, followed by the looting of shops. Is this the end of civilisation as we have known it? It is all very un-Australian or is it? Nobody so far has pointed out that almost 30,000 attended the football (soccer) match at Telstra Dome in perfect harmony on Friday night with no problem despite passionate support for Melbourne Victory.
The youngsters at the tennis were Australian-born, bred and educated. So to describe that incident as racial, as one paper did, is completely inaccurate. A news agency also wanted to include the Greek fans in the story, but soon the focus was entirely on those in Serbian and Croatian colours. The participants, judging by the television footage, were very young, with the majority being teenagers. Until this recent incident the organisers of the Australian Open had tolerated, if not encouraged, fans to turn up in national colours to support overseas players. The Swedes and the Danes have been doing it for years. The Greeks, Croatians and Serbians followed suit with no serious incidents until this year.
Let's look at things a little more dispassionately. It is high summer, and there are lots of young men out for a good time in fairly large groups, which raises all the issues of group rather than individual behaviour. An incident occurs and you go in for your mates. This is a good Australian tradition. We encourage it in certain contexts, at the footy and when someone is in danger. Only this time behaviour is unacceptable. Each group blames the other for starting the trouble. Things escalate and we then throw the problem on to the police and security organisations to sort it out. The best forms of social control are the ones we adopt voluntarily.
One again we are in danger in demonising another group in Australian society. It is 'us and them' as advocated by some Australian politicians and media commentators. We blame others for the behaviour rather than look closely at ourselves and what we are doing as a society. A Muslim cleric in a position of influence makes some inflammatory comments. Immediately some commentators blame all Australian Muslims for the problem and demand that they get rid of the religious leader, otherwise they are condoning what he says. Think for a moment about how we would object to being told that we approve of everything pronounced by the head of, say, the Uniting church in Australia.
There is no doubt that there are people who enjoy causing mayhem. Some want to get their faces on the box for their 5 seconds of fame. Others want to stir up trouble and enjoy the results, while remaining undetected. We have people who enjoy lighting fires. Tracking down and dealing with such people is difficult, time-consuming and thankless, but it is necessary. It is not helped by blanket condemnation of groups.
The people involved are not mindless morons and thugs. They are street-wise kids and many will regard the tactics of the authorities as a challenge to be circumvented. Modern technology, particularly mobile phones and the internet have assisted in organising group activities, so it is no surprise to find them being used to summon people to troublemaking. But we have to be careful we don't become involved in a cycle of amplification as happened in England over soccer hooliganism which contributed to the appalling incidents at Heysel Stadium and indirectly to the Hillsborough disaster when 96 fans died in 1989. Little or no violence was involved in this awful catastrophe but the fact that fans had been put in pens and fenced in with no means of escape turned what the local authorities saw as a problem of public order into one of public safety.