Melbourne Victory 1 Melbourne Heart 2
Roy Hay
The keenly awaited Melbourne derby kicked-off the 2012–13 A League season at Etihad Stadium on Friday night and Melbourne Heart continued their dominance in this fixture with a deserved two-one win in front of a derby record crowd of 42,032.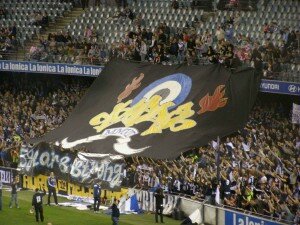 Victory banner
The game opened with the usual overheated series of challenges and referee Jarred Gillett responded with warnings followed by cautions for Patrick Gerhardt and Richard Garcia. Ange Postecoglou had insisted that Victory play the ball out from the back as his Brisbane Roar team did so successfully, but when Adam Traore got himself in a tangle Richard Garcia knocked the ball clear to the left where David Williams had a simple finish in the 13th minute.
Victory got back on terms after 24 minutes with a sweet goal. Marcos Flores found Archie Thompson clear down the left and his early cross was swept home by Marco Rojas at the far post. Guilherme Finkler played a one-two with Flores but his chip just flew wide of Clint Bolton and the Heart goal. Lawrence Thomas found himself under pressure several times with passes from his defenders but he pulled off a series of saves and blocks to keep Victory in the game.
It was into injury time at the interval when Heart scored its second goal. Michael Marrone sent Mate Dugandzic away on the right, and the winger outstripped the defence before sending a low cross between the keeper and the last defenders who were struggling to keep up. McAllister arrived to fire the ball past the unprotected Thomas.
In the second half Victory had lots of possession but was always vulnerable to Heart slingshot counterattacks as when Mcallister chipped the ball over Thomas only to see it drift wide. Then the young keeper had to come quickly off his line to deny Dugandzic. Danny Allsopp replaced Leigh Broxham as Ange Postecoglou brought fresh legs into the midfield and the big man combined with Thompson to free Traore only for the full back to fire the ball into the side net. James Jeggo replaced Flores who had covered lots of ground and hit the post with one effort and Theo Markelis came on for Rojas. John Aloisi mad echanges of his own bringing on Jason Hoffman for Matt Thompson and Josip Tadic for Fred who went down with cramp. Victory had a good chance to grab an equalizer in the final minutes when Matthew Foschin muscled his way through two tackles and slid the ball across the goal area, but Archie Thompson's shot flew over the bar and with that went Victory's hopes of something from the game.
John Aloisi was delighted with the way his team pressured Victory high up the pitch, knowing that the home team would play it out from the back. Heart denied Victory any momentum and they took a couple of the numerous rebound chances they created.
Ange Postecoglou was distraught that his players had thrown away a chance to perform in front of a huge crowd. That is an opportunity which has gone was the theme of his lament at the end of the game. He resisted all attempts to analyse the details or to suggest positives from the game and would not credit Heart with stifling his team. He is surely correct that Victory missed a chance to impress and stamp authority on the game and it would be very unfair to judge the team on one performance, but while Flores, Finkler and Jonathan Bru did some excellent things in midfield it is worrying that Victory does not yet have the cutting edge it had in past seasons.
Match details
Friday, 5 October 2012
Hyundai A-League Round One
Melbourne Victory 1 (Marco Rojas 24') Melbourne Heart 2 (David Williams 14', Dylan McAllister 45 + 2')
Venue: Etihad Stadium
Local kick-off: 7:30pm
Referees: Jarred Gillet
Assistant referees: David Walsh and George Lakrinidis
Fourth official: Lucien Laverdure
Attendance: 42,032
Melbourne Victory:
20. Lawrence Thomas, 2. Matthew Foschini, 3. Adam Traore, 5.Mark Milligan, 6. Leigh Broxham (18. Daniel Allsopp 64'), 7. Guilherme Finkler, 8. Jonathan Bru, 9. Marcos Flores (17. James Jeggo 67'), 10. Archie Thompson, 11. Marco Rojas (16. Theo Markelis 72'), 23. Adrian Leijer
Unused substitutes: 1.Tando Velaphi.
Yellow cards: Jonathan Bru 43'
Red cards: Nil
Melbourne Heart:
1.Clint Bolton , 2.Michael Marrone, 4.Simon Colosimo, 5. Fred (10. Josip Tadic 82'), 6. Patrick Gerhardt, 8.Matt Thompson (17. Jason Hoffman 75'), 9. Dylan McAllister, 11. Richard Garcia, 15.David Williams, 16 Aziz Behich, 23 Mate Dugandzic (18 David Vrankovic 90 + 5').
Unused substitutes: 20. Andrew Redmayne
Yellow cards: Patrick Gerhardt 10', Richard Garcia 26', Fred 57', Mate Dugandzic 90 + 3.
Red cards: Nil